Visa Cancellation has serious consequences for visa holders and any secondary visa holders
Restrictions on further visa applications and mandatory time bans on further applications will apply.
Visa Cancellation: What can I do?
Be sure to respond in time. Send a revocation request with detailed response to grounds of cancellation.[/vc_cta][vc_column_text]Visa cancellation occurs when there has been a substantial breach of visa conditions. There is also a higher likelihood that a visa will be cancelled for repeated breaches of visa conditions.
When a visa cancellation takes place, a decision record will be issued to the visa holder. The decision record will outline grounds for cancellation, the facts considered and the decision.
An opportunity to provide a written response to a visa cancellation is a Request for Revocation. There are strict time limits on making this written submission. Failure to provide response within time frame provided will result in visa cancellation remaining.
Notice of Intention to Consider Cancellation
For visa holders on shore at the time of cancellation a Notice of Intention to Consider Cancellation (NOICC) will be issued.
The NOICC is a natural justice letter. It is giving the visa holder time to respond to the grounds for cancellation.
The grounds for cancellation depend on the breach of visa condition that is said to have taken place.
The success in in any attempt to reverse the cancellation process depends on the condition being breached.
A student visa cancellation, for example, has a higher prospect of success when the grounds for cancellation are due to a decline in attendance compared with students found to be working more than 20 hours per week.
The grounds of cancellation must be addressed with strong arguments and appropriate evidence the decision is to be avoided.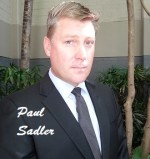 Paul Sadler
Registered Migration Law Professional
For assistance with revocation of visa cancellation requests or other visa and migration matters, contact Mr Paul Sadler on (02) 8971 1663 or via our contact us page.