Got a Partner Visa Interview coming up?
Partne
r visa interviews are a critical phase in the Permanent Resident visa application review process. That is, for subclass 801 (onshore) and 100 (offshore) visa applicant reviews, case officers increasingly resort to face to face or phone interviews to:
confirm information,
address concerns of contradictions/conflicting evidence and testimony
to act on tip offs, dob ins or random information supplied by department cross checks
and even to lay traps where individuals suspected of bogus relationships will divulge damning testimony.
They are also sometimes used in temporary partner visa and Prospective Marriage visa assessments.
For this reason, to be adequately prepared is an absolute must.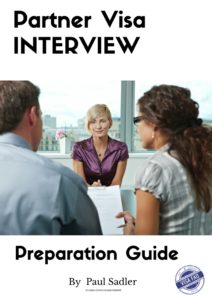 The Partner Visa Interview Preparation Guide is an essential aide assisting clients with their partner visa interview preparations.
[hr]
More than half of Partner Visa cases lodged with Administrative Appeals Tribunal (AAT) are the direct result of information provided during case officer interviews (phone and face to face).*
[hr]
The Guide's list of questions is exhaustive and up to date. It is compiled on the basis of years of experience and feedback from partner visa applicants and merits review at tribunal hearings.
Additional information provided to assist in preparation of partner visa interviews include,
Notes on Definition of Spouse used by Departmental Case Officers and Tribunal Members during merits review
Partner Visa Document Checklist
This useful guide should be retained as an aid to assist your application from start to finish.
[hr]
IMPORTANT
Do not have a false sense of security that the genuineness of your relationship will get you through.
Many genuine applications have failed for the most basic of mistakes.
Bogus, fake, sham marriages (or whatever term you prefer to use) has been high and on the increasae in recent times.
The more this occurs, the more case officers carefully scrutinise evidence for grounds of refusal.

 
* 2008 Parliamentary review into merits review process of failed partner visa applications.