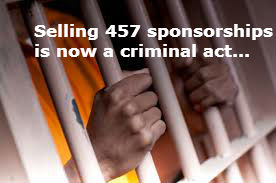 Recent legislative changes introduced through the Parliament now make it a criminal offence for a sponsor to be paid by a visa applicant for a 457 visa sponsorship.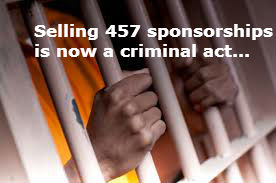 The change to the legislation was introduced as a recommendation of the recently concluded independent review of the integrity of the subclass 457 programme. The government  was very keen to adopt this measure due to the widespread nature of fraudulent applications.
The Migration Amendment (Charging for a Migration Outcome) Bill 2015 implements this recommendation and expands the application beyond the 457 visa programme to other temporary and permanent work visas.'
The permanent resident visas under the Regional Sponsored Migration Scheme (RSMS) and Employer Nomination Scheme (ENS) are likely to be drawn into the scope of this legislative crackdown.
PLEASE NOTE THAT IF YOU HAVE ANY CONCERNS ABOUT EXPOSURE TO POSSIBLE SANCTIONS, INVESTIGATION OR VISA CANCELLATION CONTACT US FOR A STRICTLY CONFIDENTIAL CONSULTATION.
Senator Michaella Cash stated in relation to this change, 'Unlawful arrangements whereby payment, inducements or other incentives are promised or exchanged to try and achieve a migration outcome will not be tolerated by this Government.'
She went on to state that the practice of giving or receiving a benefit in return for visa sponsorship can have serious detrimental effects including possible exploitation, undermining of Australian pay and conditions and can damage the integrity of Australia's migration programmes.
There will be a framework for criminal, civil and administrative sanctions against sponsors who actively 'sell' sponsorships, or seek to obtain an undue advantage in return for sponsoring a person.
The Bill also introduces a new discretionary power to allow for cancellation of a visa where the visa holder has engaged in 'payment for visas' activity.
Minister Cash said the new penalties will further strengthen the integrity of Australia's migration programme, building on a number of initiatives announced over the past two years.​​​
Share